Strath Lodge Glencoe

Tel: 01855 811820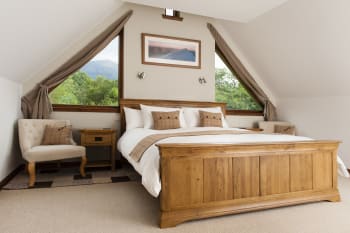 Strath Lodge Glencoe is a large modern architecturally designed home set in a stunning mountain landscape. Natural materials are combined with neutral tones to create a fabulous home offering a comfortable and relaxing environment. A perfect location to enjoy the mountains and glens,
Availability
There are no rooms available at Strath Lodge Glencoe
for these dates.
Please try other dates or select a
different property
.
rooms
Facilities
Breakfast Room
Drying Facilities
Internet Access
Policies
Check In: Between 16:00 and 19:00
Check Out: Between 9:00 and 10:00
Wi-fi: Wireless internet is available and is free of charge.
Smoking: There is no smoking permitted anywhere within the property.
Parking: Parking for all guests is available on site and is free of charge.


Children: Children aged 16 or over are welcome.
Pets: Pets are not allowed.
Groups: Groups are accepted up to a maximum of 8 people. No stag and hen groups.
Average
5.0
out of 5
70 reviews
100% recommend
Reviews
2nd November 2020:

Lovely touches in the rooms, comfy and cosy Dawn and Laurence made the stay impeccable, always on hand to help and advise to ensure we made the most of our stay the best scrambled eggs and homemade english muffins i have ever tasted! highly recommend, will definatley be back
Tips:
enjoyed Claicah inn nice steak at the Old inn, Appin good walk up to the Pap of Glencoe Lovely views at Steall falls
Would Recommend: Yes
30th October 2020:

Simply brilliant. Highly recommended.
Tips:
Bring Gortex and get outside. Glen Coe is superb!
Would Recommend: Yes
27th October 2020:

Great place to stay, good location, nice views! Rooms were excellent, love the provision of fresh milk for my tea :) Will definitely be back at some point!
Would Recommend: Yes
21st October 2020:

Wonderful stay, thank you very much. Loved how big the room was (and the bed - super comfy!). Breakfast was absolutely delicious and the perfect way to start the day. Thank you for the tips and recommendations.
Would Recommend: Yes
13th October 2020:

A most comfortable and enjoyable stay, could not have been better.
Would Recommend: Yes
12th October 2020:

Strath Lodge is a beautiful guest house in a gorgeous forest location. Our room, like the whole house, was immaculately clean and very comfortable. We received a lovely warm and friendly welcome from Dawn who thought of everything we might possibly need and provided us with very helpful information and advice about where we might go hiking. After a delicious breakfast we had a fabulous day walking among trees alongside thunderous waterfalls surrounded by immense slopes and peaks in Glen Nevis. It was a memorable visit and we look forward to returning as soon as we can. Thanks Dawn and Laurence for all your care and a wonderful holiday!
Would Recommend: Yes
11th October 2020:

We had a great stay. Breakfast is excellent. Covid precautions gave us confidence during our stay. We will be visiting Strath Lodge again.
Tips:
This is a great area with a number of local walks directly from Strath Lodge.
Would Recommend: Yes
7th October 2020:

I had the best stay ever at Strath Lodge. Cannot fault, amazing house, super location, comfortable bed, tasty breakfast and fully looked after such as drying all my walking gear. Highly recommended.
Tips:
I was walking, many options. Fantastic area.
Would Recommend: Yes
5th October 2020:

Spotless house, beautifully decorated and furnished. Every detail has been thought of. Dawn and Lawrence are brilliant hosts. Didn't want to leave. We will be back very soon.
Would Recommend: Yes
3rd October 2020:

Our stay at Strath Lodge was one of the highlights of our 8 day road trip around Scotland. Dawn was so friendly and helpful - giving us some amazing recommendations for what to see and do around Glencoe. The room was unbelievable - super clean and huge with the most comfortable bed I have ever slept on and breathtaking views of the surrounding mountains. The bathroom was to die for with a huge shower and everything else you need. Thank you for everything Dawn. We can't wait to return
Tips:
Definitely head up to the Pap of Glencoe and make sure you have some food at the local pub.
Would Recommend: Yes
27th September 2020:

The best hosts we have ever had the pleasure to meet. We enjoyed every moment of our stay. Thank you so much for your hospitality and when we look to visit the Western Islands next, we know where we can stay. We wish you a successful, busy and safe time ahead. Kindest Regards Mick & Jane
Tips:
We travelled an awful lot so weren't really eating or visiting local places.
Would Recommend: Yes
27th September 2020:

Beautiful property in a lovely setting. Made to feel very welcome. Thoroughly enjoyed our stay.
Would Recommend: Yes
26th September 2020:

Can't recommend Strath Lodge highly enough. My boyfriend and I stayed in The Pap room and it was spacious, comfortable and immaculately clean. Dawn and Laurence put thought into every detail. Breakfast is delicious, generously sized, cooked to order and comes with a great view. They have a big file with info on hikes and runs in the area and give lots of helpful recommendations. You go out of the front door and immediately get onto beautiful trails. If it's rainy you get back and put your wet boots into a toasty warming cupboard to dry off. A wonderful stay all round - can't wait to come back
Would Recommend: Yes
25th September 2020:

Would Recommend: Yes
22nd September 2020:

I had a lovely stay at Strath Lodge - really beautiful property & everything was really well done, from the very comfortable room, to the lovely organic toiletries & the delicious breakfasts. Thank you!
Would Recommend: Yes
21st September 2020:

Delightful. Clean rooms, friendly hosts, great breakfast
Tips:
Dawn is very knowledgeable about the area there is a guide book in the room for information. I suggest booking taxis and restaurants well in advance
Would Recommend: Yes
16th September 2020:

Dawn and Laurence are the most warm, welcoming, and generous of hosts where nothing is too much trouble. They have created in Strath Lodge the ideal place to stay: immaculately maintained bedrooms and public areas, a calm and peaceful setting, and very well-located for a variety of activities.
Tips:
I would strongly recommend The Laroch restaurant in Ballachulish and the Loch Leven Hotel for dinner.
Would Recommend: Yes
14th September 2020:

great hosts, who had thought about every detail. Beautifully kept house and good space between guests. Breakfasts were especially good, with great options. Good location and suggestions from the hosts.
Would Recommend: Yes
14th September 2020:

Dawn and Lawrence was great hosts! We felt so welcomed and safe staying at their lovely and extremely charming bed and breakfast. They were always happy to help us out with recommendations, and always met us with a smile and great hospitality. We loved everything about the stay and only wished that we could have stayed longer! The quality of the breakfast was also on top, and we really enjoyed having such filling and fresh breakfast to kickstart the day. All in all, very happy with the stay!
Would Recommend: Yes
12th September 2020:

A lovely warm welcome from Dawn & Laurence to their stunning house in equally stunning surroundings! Their knowledge of the area is great and their advice very helpful. Enjoyed lovely cooked breakfasts along with lots of other choices (including home baked muffins) They have put in place all the additional requirements needed due to COVID, and have managed it very well. Would certainly recommend a stay here.
Tips:
Strath Lodge is very well situated for the mountains, hills and trails, the Pap is directly on the doorstep. It's only a short walk to the loch, Glencoe Village, The Clachaig Inn and close to Ballachulish, had a lovely meal in The Laroch there. We got a handy map and places of interest booklet in our room...there's something for everyone.
Would Recommend: Yes
6th September 2020:

A lovely lodge with the beautiful backdrop, very close to Glencoe Lochan. Easy to reach and park. Nearby Ballachulish village has nice eateries. The lodge is modern, very clean, warm and spacious with absolute privacy. The bedroom we stayed is warm, comfortable and tastefully decorated. The tasty hot breakfast is of higher quality than high-end hotels. And Dawn and Laurence are fantastic hosts.
Tips:
Just book it. You will be amazed.
Would Recommend: Yes
30th August 2020:

Dawn and Laurence are excellent hosts. The lodge is perfect. We thoroughly enjoyed our stay and wish we could have stayed longer.
Would Recommend: Yes
28th August 2020:

Well what can I say dawn and Lawrence you made our stay so comfortable and what a pleasant and wonderful place you both run and under the circumstances we all are trying to deal with COVID-19!! I must say your running and procedures were spot on and full marks in that department. So once again thank you and hope to see yous again
Tips:
This accommodation is spot on we stayed here for a couple of days and we are always abroad so coming here was so different but all I can say is whooo the place is stunning ! First of all the accommodation was faultless. The surroundings OMG breathtaking. The choice of places to go to was great food choices in and around Glencoe and Ballachulish were great but the tranquility of the area is just fabulous and would recommend this to everyone !!!!!!!
Would Recommend: Yes
28th August 2020:

Absolutely wonderful stay in this spotless Guest House this weekend. Everything was just perfect and Dawn and Laurence are fantastic hosts. The breakfast are spot on, from the coffee to the porridge to the home made baked beans. We stayed in the Pap room with a huge bed, sofa and TV and it was so comfortable we didn't want to get out of it. So glad we did though, a perfect location for exploring the Glencoe and Western Highlands region.
Tips:
We visited post COVID lockdown so booking the restaurants is essential while there is more limited service. Strath Lodge is a perfect base to explore the Glencoe region and we visited further afield to the Glenfinnan Viaduct and followed the road up to Mallaig, stopping in the beautiful Arasaig area for a walk. We also drove to Appin and visited Stalker Castle. Make sure you bring midge hats and repellent in the summer though!
Would Recommend: Yes
26th August 2020:

Beautiful property in a stunning location. Very friendly and helpful hosts. Somewhere a little bit special.
Would Recommend: Yes
24th August 2020:

When it comes to running a B&B, Dawn and Laurence have nailed it. Very comfortable, unfussy accommodation and great breakfasts. Welcoming and helpful hosts. This was my third stay this year so that must say something. Also, having stayed in 5* hotel and an AirBNB elsewhere in Scotland since travel restrictions were eased, this was by far the most rigorous approach to keeping guests safe.
Tips:
If you are a walker, the path up the Pap of Glencoe is just over the road. Fantastic views! For casual strollers you can do the Glencoe Lochan from the B&B. Dining opportunities are limited but I had a surprisingly good burger at at The Gathering. With staycations all the rage, booking almost everywhere is essential.
Would Recommend: Yes
24th August 2020:

Strath Lodge is a great location for the west coast of Scotland and the Highlands. The rooms and breakfast were fantastic and I would highly recommend this venue to other travellers. We will certainly be going back.
Tips:
There is a small gin distillery nearby where you can book a class in gin making. I would recommend booking all evening restaurants in advance as we had trouble getting somewhere to eat on the first couple of nights.
Would Recommend: Yes
19th August 2020:

We just returned from a stay at the Strath Lodge, and we loved it! Dawn and Laurence welcomed us making us feel comfortable, relaxed and looked after. Our room and the whole place was spotless, the breakfast was top notch and the vibe was so calming it was the perfect escape from the city tucked away within the mountains and trees. The small homey touches to the place really gave it an extra luxury feel. We very much hope to return. Thank you D&L!
Would Recommend: Yes
17th August 2020:

This is a great place to stay in Glencoe.....lovely house, within 10 minutes walk of the village. Dawn made a real effort to welcome us despite having to comply with COVID restrictions....and she had done a great job in dealing with these restrictions. We had a really relaxing stay and I would recommend Strath Lodge unreservedly to anyone wanting accommodation in Glencoe. Great breakfast as well!
Tips:
At present, evening food is available at the Clachaig and the pub in the village, also other hotels/pubs within a short drive, although sadly the Kinlochleven seafood cafe/restaurant isn't open in the evenings at the moment (great place to visit when it is open...I think they are open during the day for take out).
Would Recommend: Yes
17th August 2020:

Would Recommend: Yes
8th August 2020:

Dawn and laurence thank you so much for making our stay with you so pleasant. We absolutely loved everything about your amazing house, your great hospitality and laurences delicious and hearty breakfasts! We really enjoyed chatting with you each day, thanks again and I really am sure we will return.
Would Recommend: Yes
7th August 2020:

Dawn was lovely and had great advice for places to go in the area! The breakfasts were delicious and really large portions. The room itself (we stayed in Bidean) was great - a massive, comfy bed, a super nice bathroom and beautiful views. We were the only ones staying there (which was pretty nice considering the times!) but with the accommodations that were made, such as breakfast time slots and multiple locations with hand sanitiser, I felt very comfortable staying there. The location was also great with a bunch of hiking trails nearby!
Tips:
The food at the inn down the road was very good, but it was pretty busy even at 8pm, so going earlier might be better. Fort William isn't that far and there are tons of good restaurants (Black Isle Brewery has great pizza)! We only did the lochan trail (nice for a leisurely walk in the woods) and Grey Mare's Tail trail (which was more of a hike), but for the Grey Mare's Tail get there early because the parking for it isn't very big and will fill up closer to noon!
Would Recommend: Yes
3rd August 2020:

Wow! What a fantastic 5 star stay! Wish we could have stayed a 3rd night.! The Pap room was spotless, huge comfortable bed with excellent quality sheets, fabulous shower after a long day hiking, handy wee fridge with fruit, snack bars and water. Usual nice tea , coffee and biscuits. It was a big spacious room and far better than any hotel room offered in GlenCoe area. I was so glad I found this BnB. Wonderful breakfast and hosts full of knowledge to help us plan things to do. I have came away from this trip raving to my friends and family to stay here. It's the only place I'd stay in GlenCoe and I'm so glad I found this little gem. Hand gel provided and super clean during the coronavirus times. I felt extremely safe and had no concerns. Much better than an overpriced hotel.
Tips:
Day one... on arrival we parked in their car park and hiked up the Pap. It's on the door step of the trail and booked dinner in the kingshouse hotel. Day two... drove to Glenfinnan did the short and easy trail around their for the viewpoints then drove to Camusdarroch beach. Had dinner in the clachan. Day three... walked round the Lochan , drove to the hidden valley and hiked this, next we went to glen drive for the James Bond Skyfall movie scene photo then drove home via Conic Hill and did this. Crafts and things have souvenirs and a great cafe.
Would Recommend: Yes
30th July 2020:

A delightful airy and comfortable lodge that is spotlessly clean. Dawn and Lawrence are excellent hosts and do their best to ensure everyone has an enjoyable stay. We would definitely book again.
Tips:
Strath Lodge is in an excellent location for climbing and walking in the Glencoe area and within easy reach (by car) of places to eat.
Would Recommend: Yes
29th July 2020:

Would Recommend: Yes
23rd July 2020:

Second stay and always a pleasure. Hosts have done an excellent job adapting to the pandemic and the quality of service has not suffered at all.
Would Recommend: Yes
21st July 2020:

Brilliant stay at Strath Lodge during the first open weekend post-lockdown. We had originally booked in March before this all kicked off and Dawn & Lawrence were generous in honouring this stay at a much later date. Diligent health & safety measures are in place but this didn't take away an of the comfort of our stay. A beautiful property well situated for all of Glencoe's top sites but also close to a couple of hidden gems and lochans. Breakfast was delicious and freshly prepared. Impressed with the homemade baked beans! -Stephen & Jess
Would Recommend: Yes
24th March 2020:

Would Recommend: Yes
24th March 2020:

The most wonderful people, in the most beautiful location, with the most comfortable accommodations. Not to mention, the BEST breakfast.
Tips:
Clachaig Inn. Glen Etive.
Would Recommend: Yes
22nd March 2020:

The bathroom was very cold. Is there underfloor heating in there? Means that towels don't really dry. Alert from that the place is lovely.
Tips:
Alas, weren't there long enough but that walk to the phone mast is a must. The view through the Glen makes it worthwhile.
Would Recommend: Yes
20th March 2020:

Great place to stay perfectly positioned, superior accommodation and our hosts Dawn and Lawrence were really friendly and nothing was too much trouble. Will definitely visit again 5 ⭐️
Would Recommend: Yes
14th March 2020:

Very kind and lovingly managed B&B at the most beautiful location. Exceedingly high standard. Dawn and Lawrence, you walk the extra step for your guests!!! Thank you again
Would Recommend: Yes
6th March 2020:

Great breakfast & service. Lovely location and very close to all the best walks & pubs in the area. Dawn was a lovely host, we will definitely be returning.
Would Recommend: Yes
25th February 2020:

Lovely stay at Strath Lodge! Dawn and Laurence do their utmost to make you feel at home.
Tips:
Just go there and enjoy Strath Lodge yourself.
Would Recommend: Yes
24th February 2020:

I've never stayed in a B&B, always hotels, however will be rebooking the next time we are in the area (hopefully with friends). The accommodation is exactly like the photos and does not disappoint (like others I've stayed in). My husband is still raving about the breakfast being the best he has had (and he has travelled A LOT). Our hosts were so sweet and helpful. The perfection combination of being there to help and advise but not overbearing. Lots of lovely touches in the room. Absolutely loved it !!!!
Tips:
A 20 minute walk to the Claichaig Inn is a must, especially at weekends when there is live music in the Boots Bar. Great climbers pub. Remember your head torch for stumbling home. Although Strath Lodge have torches to borrow.
Would Recommend: Yes
9th February 2020:

A warm welcome awaits you at Strath Lodge. The rooms are spacious and very comfortable with great care and attention to detail. After a good night sleep comes a delicious breakfast with a great choice of options. Owners Dawn and Laurence are very welcoming and went above and beyond to ensure my stay was perfect. Strath Lodge is a beautiful and peaceful location set amongst the mountains and wildlife, yet close enough to the main road through Glencoe. Having spent 6 nights at Strath Lodge I highly recommend this B&B and look forward to returning.
Tips:
Strath Lodge is a perfect peaceful location for people who love the outdoors. The breakfast sets you up well for a day in the outdoors. There is a drying room which is perfect for drying wet clothes and boots. All of my outdoor clothes were dry and ready to wear again the following day. The rooms are warm, comfortable and very welcoming to come back to after being outside all day. There are safe facilities to lock up bikes. And bars and restaurants within walking distance.
Would Recommend: Yes
10th January 2020:

A lovely property and a warm welcome, nothing was to much trouble.
Would Recommend: Yes
19th December 2019:

Dawn and Lawrence are the perfect hosts! Millie and I stayed for two nights and were amazed at this awesome lodge and the lovely couple who run it. The food was delicious and Dawn was extremely helpful in the lead up to and during our stay. Thanks and we'll hopefully see you again soon!
Tips:
Head to the Clachaig for food and live music on a Friday and Saturday night. During the day there are loads of great walks nearby, or alternatively you could head up to Glenfinnan to see the viaduct. We also headed to Uvie Farm near Newtonmore for one of our days to see the lovely herd of Highland cows raised by Roy the farmer; roughly a 1.5 hour drive from Strath Lodge but well worth it.
Would Recommend: Yes
7th December 2019:

Our stay was perfect ! The location is magical, the room perfectly clean and very confortable, and the breakfast is fantastic. We definitely recommend the Strath Lodge !
Would Recommend: Yes
2nd December 2019:

Couldn't fault the stay or our hosts. Booked as a treat for my partners birthday but we will be finding any excuse to treat ourselves again.
Would Recommend: Yes
25th November 2019:

Amazing place in the perfect location, would highly recommend for a stay in Glencoe. The rooms are immaculate and breakfast was brilliant. Lots of attention to detail has been thought about and we can't wait to return.
Would Recommend: Yes
24th November 2019:

Perfect location for hiking the Pap.
Would Recommend: Yes
23rd November 2019:

Strath Lodge is simply fantastic. It is in a peaceful location. The house is gorgeous, so stylish. Our room was spotlessly clean with a lovely comfortable bed, and we loved the Scottish Fine Soaps toiletries. Dawn and Laurence were wonderful hosts, suggesting suitable walks and places to eat. Breakfast was amazing! Glencoe is just magical , and Strath Lodge is the perfect place to stay.
Tips:
Ask Dawn and Laurence to suggest walks. The Clachaig Inn and the Gathering have great food, and the Glencoe cafe have great cakes and coffee.
Would Recommend: Yes
22nd November 2019:

Wonderful stay! Dawn and Lawrence were really kind and lovely hosts, and their breakfasts were fantastic. Would highly recommend the traditional Scottish breakfast with the porridge. The rooms were clean, quiet, and comfortable. The location is ideal for gorgeous scenery, and within a few minutes walk to hiking trails.
Would Recommend: Yes
13th November 2019:

really enjopyed our stay. Very peaceful, great room, service and breakfast.
Would Recommend: Yes
13th November 2019:

Would Recommend: Yes
13th November 2019:

Amazing hosts , Very friendly welcome, First class service . The property was stunning We would highly recommend.
Would Recommend: Yes
12th November 2019:

Lovely room with really comfortable bed. Breakfast was great, really set us up for a days walking. Dawn and Laurence were very friendly hosts with lots of useful tips on walks and local pubs and restaurants.
Tips:
Clachaig Inn is great local pub with good food and music about 30 mins walk.
Would Recommend: Yes
8th November 2019:

Would Recommend: Yes
31st October 2019:

Our bed felt like we were sleeping on a cloud, so much so my husband asked to replicate it at home. Everything was spotless and kept that way throughout our stay. We were given great hiking advice in Glencoe and restaurant recommendations for Edinburgh. The only thing I could ask for would be a longer stay here. Thank you so much!
Tips:
The Glencoe Cafe was adorable and the Boots Bar has great atmosphere and delicious hot chocolate!
Would Recommend: Yes
25th October 2019:

Your hospitality and guest management skills were superb. The quality of accommodation was the best Jane & I have ever experienced. Your breakfast window and options just right. The food also was top drawer. The best porridge I have ever tasted.
Tips:
Glen Etive is a must. Enjoy the views from a parking layby at the heart of Glencoe also, before the tour coaches get there from 11am! Black Mount has a large parking layby also. It is the other side of Glencoe if travelling from the hotel also offers a wonderful view across the wilderness to Loch Tulla. The Glenfinnan Monument is also superb. The Visitor Centre car park is far too small. Don't bother. Instead, go to the car park for the Glenfinnan House hotel and enjoy the views from the banks of Loch Shiel there. Also, partake of tea and a scone in the hotel. It's a dimly lit Highland version of Downton Abbey!
Would Recommend: Yes
24th October 2019:

Dawn and Lawrence were amazing hosts, this was the nicest place we stayed in Scotland.
Tips:
We loved a local a seafood restaurant that Dawn told us about. We also spent a day in Oban that as a lot of fun
Would Recommend: Yes
17th October 2019:

Dawn and Laurence run an exceptional guest lodge and are wonderful hosts. They are enthusiastic about the area and provided us with great suggestions about places to eat and activities in the area. And their breakfasts? Fantastic!! We hope to come back and stay with them again. Our room was spacious, comfortable, and very clean. A great place to stay!!
Tips:
The Clachaig Inn Restaurant and Pub was just down the road and had great food and authentic Scottish music. Plus, it was such a fun and lively place to go! Dawn suggested we drive down Glen Etive and found it to have stunning views of the river, mountains, and waterfalls. Plus, no crowds.
Would Recommend: Yes
16th October 2019:

We zijn een nacht gebleven in de Lodge. Na een hartelijk ontvangst heeft de hostess onze kamer laten zien. Een mooie kamer van alle gemakken voorzien! En zeer schoon. Het ontbijt de volgende ochtend was heerlijk, het bed was fijn, kortom een aanrader!
Tips:
Nabij de lodge is een eetgelegenheid op loopafstand. Op aanraden van de hostess hebben wij gegeten bij een typische schotse pub. Heerlijk eten en een goede ambiance!
Would Recommend: Yes
9th October 2019:

Very welcoming hosts, really comfortable and spacious rooms, and excellent breakfasts.
Tips:
Good selection of nearby restaurants and pubs. We went there for the scenery and walks and were not disappointed. A place of outstanding beauty and a feeling of really getting back to nature.
Would Recommend: Yes
3rd October 2019:

Very friendly. Great hospitality.
Would Recommend: Yes
1st October 2019:

Very friendly and very quiet. Plenty of good explanations for hikes directly from the lodge. Delicious breakfast.
Tips:
Very quiet lodge situatet at trailheads for several hikes.
Would Recommend: Yes
27th September 2019:

Fantastic hosts surrounded by great beauty in Glencoe Scotland. Room and home is very well constructed and maintained; bed was quite comfortable; and, the bathroom was private and functioned well.
Tips:
Plenty to see in this area -- hiking is nearby as well as the incredible beauty of Scotland. A couple of very nice restaurants as well. This is a great place to stay.
Would Recommend: Yes
23rd September 2019:

Beautiful place, amazing breakfast, kind owners. Loved our time there.
Tips:
Give yourself enough time to see and enjoy. Good hiking. Would recommend a minimum of 2 full days!
Would Recommend: Yes
22nd September 2019:

Warmly welcomed and very caring. Goes (and has gone 'that extra mile')! Exceptional hosts! Our room and bed, both being spacious and superb. A hearty breakfast awaits you! Room was spotless, our en-suite spacious and well facilitated. Car parking more than ample. The Lodge and grounds just warm and welcoming. Loved the variety of Heather by the door entrance.
Tips:
Two restaurants close by to the lodge: Clachaig Inn & Glencoe Inn 'The Gathering' superb meals at both. Trip to Glenfinnan has to be on the agenda! Then travelled to Mallaig, where we saw the Steam Engine that had just arrived 'The Lancashire Fuselier'.
Would Recommend: Yes
.